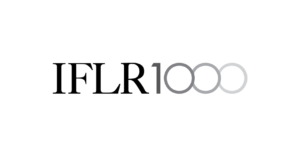 We are excited to share that the renowned IFLR1000 guide has once again ranked Tasić & Partners among the leading law firms in Serbia in the fields of Financial and Corporate law and Project Development – and this marks the sixth consecutive year.
Furthermore, we would like to highlight the recognition of the outstanding work of two members of our team. Our Managing Partner, PhD Marija Tasić, has once again been included among the leading lawyers in Serbia and recognized as a "Highly Regarded Lawyer" in the field of Project Development in the Energy Sector. Additionally, with great satisfaction, we announce that this year, Vanja Stojanović Cvetanovski, Senior Partner at Tasić & Partners, has been recognized as a "Rising Star Partner", also in the area of Project Development.
The IFLR1000 guide, first published in 1990, represents the gold standard in ranking top law firms and attorneys, all based on transactional evidence and feedback from our valued clients.
We also want to take this opportunity to express our gratitude to our loyal clients, whose positive comments regarding their satisfaction with the services we provide have been an important factor in our positioning as a leading law firm in Serbia.
This significant recognition of our past work serves as additional motivation to continue enhancing the quality of our services. Thank you all for the support and trust you have placed in us!
View the rankings, by clicking here!