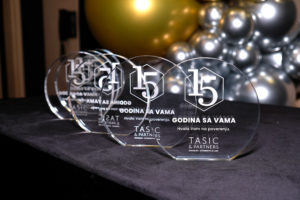 Fifteen remarkable years have passed since the establishment of the Law Office Tasić & Partners, signifying an important milestone in our journey.
Since the establishment of Tasić & Partners, our vision was clear: to establish a law firm that would serve as a one-stop-shop for clients, providing all types of services for their businesses, a place they would continuously turn to, and which would also build lasting relationships based on trust, integrity, and excellence in legal practice.
To mark this significant jubilee, we hosted a celebration party at the Hilton Hotel on November 16, 2023. The Tasić & Partners team celebrated alongside its clients, colleagues, friends, representatives from business chambers and associations, and many others.
During her welcoming speech, PhD Marija Tasić, Founder and Managing Partner, reflected on this incredible journey, emphasizing the invaluable trust our esteemed clients have placed in us over the years. She emphasized the invaluable nature of this trust and collaboration as foundational to our success and growth. As a gesture of profound gratitude, she presented them with award plaques – a lasting symbol of our appreciation.
Furthermore, in a heartfelt moment of gratitude, Marija Tasić expressed her thanks to her team and a special appreciation to Vanja Stojanović Cvetanovski, Senior Partner, whose dedication and commitment have been instrumental in shaping the essence and success of Tasić & Partners.
Here's to 15 years of dedication, success, and the enduring partnerships that have shaped the law office Tasić & Partners into what it is today!