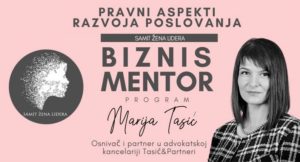 As a part of the Women's Leadership Summit, a Business Mentoring Program for women entrepreneurs interested in improving their business knowledge and skills is held from March until the end of April 2021.
As one of the participating mentors, Marija Tasic, founding and managing partner of Tasic & Partners held a session "Legal Aspects of Business Development".
The participants had an opportunity to hear and learn more about the importance of legal aspects of business development and about various obligations and responsibilities – from legal, such as preparation of drafts of general acts and other statutory documentation, to tax and other obligations, depending on the business type. Business development can be viewed from different perspectives, and this category can include conclusion of franchise agreement, e-commerce, finding a strategic or financial partner, or initial public offering (IPO). Marija Tasic pointed out that each stage of business growth comes with certain legal issues and risks, and that the development phase is often characterized by the first occurrences of court proceedings in various fields, but the participants also had the opportunity to hear more on how most of the mentioned business related legal risks and issues can be prevented.