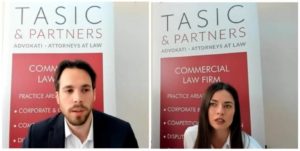 Tasić & Partners held presentations on "Digital Assets" and "Electronic Documents and Electronic Invoicing", as a part of the webinar "Digital Economy" organized in cooperation with the Belgian-Serbian Business Association.
Ivan Ćorović, a lawyer at the Tasić & Partners law firm, spoke on the topic of digital property. The goal was to inform the attendees with the forms of digital assets, security, tax and accounting treatment and risks from the point of view of legal entities.
The attendees had the opportunity to hear more on electronic documents and electronic invoicing from Ivana Đorđić, junior associate at the law firm Tasić & Partners. Ivana Đorđić introduced the participants to the concept, types and validity of electronic documents, their importance, reliability, storage, recording and protection. After that, she spoke further on the new Law on Electronic Invoicing and Electronic Invoicing as a novelty in the legal system and business operations of legal entities.