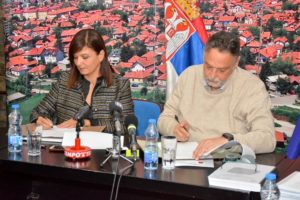 Representatives of the city of Zajecar signed a public-private partnership agreement on October 23rd with representatives of the consortium which consists of the renowned Law firm Tasić & Partners (T & P) from Belgrade, Company for consulting TTI group doo Beograd, specialized in all aspects of utility activities and financial advisory company WTS Taxes and Finance doo, part of the globally recognized WTS Global network. The subject of the Agreement are consulting services in the process of selecting a private partner-operator of the future Regional Waste Management Center "Halovo".
The consortium is made of experts for communal, legal and financial issues and is led by Law office T&P and its managing partner Dr Marija Tasic. They have already made more successful proposals for PPP projects in Serbia and the region. The expert on municipal issues of the consortium, Mr. Lazar Krnjeta, representative of the Business Association of Communal companies "Komdel" from Belgrade participated in a number of ecological projects in the country and abroad and in a numerous projects in the field of waste management. In addition to participating in numerous projects, Mr. Krnjeta is also the author of a number of studies in the field of public utilities. Financial expert of the consortium is Mr. Bojan Radojičić, director of WTS Taxes and Finance doo, which is present at WTS Global in the position of providing high quality service in synergy with international experience, which represents additional quality in the project.
Signing of this Agreement, which is of great importance for the whole region of eastern Serbia, represents the final phase of the project for selecting the private operator for constructing and managing the Regional Center at an international tender.
More on the PPP project you may find here.