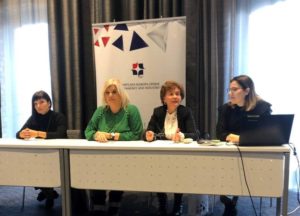 The fourth Serbian Vision, the only multicongress in Serbia, was held on the 24th and 25th of November at the Radisson Collection Old Mill Hotel in Belgrade. It was organized by the German-Serbian Chamber of Commerce (AHK Serbia) in cooperation with the Chamber of Commerce of Serbia (SCC).
Ms Marija Tasić, managing partner of the Law office Tasic&Partners, within the panel "Women Entrepreneurship – Challenges and Opportunities" held by the Serbian Chamber of Commerce, pointed to the current opportunities for foreign investments that can contribute to the establishment as well as to the expansion of already existing companies.
The project Serbian Visions is conceived as a specific concept of organizing civil, professional and other associations, as well as economic and public institutions. The aim of the multicongress is to strengthen the role of the civil society in the country, creating new opportunities for economic development, as well as protecting the environment, human rights, EU integration – it is the vision for a better future of Serbia.